Administrator
Staff member
We are proud to announce that Pavel's new title HardStyle Abs is now available in paperback format:
Hardstyle Abs
Hit Hard. Lift Heavy. Look the Part.
by Pavel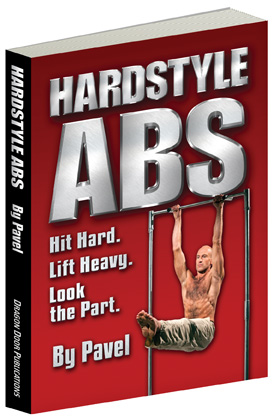 Order by Friday, September 28th and save $5.00
on your investment.
​
"Pavel'sHardstyle Abs gives the audience a quick but thorough education on why traditional "core" training programs are faulty then proceeds to give you breathing and exercise secrets to achieve both functional and aesthetically superior abs. The exercises are not easy, but Pavel gives a step by step routine that clients of any level can begin and have incredible results. I use these methods in some form with every athlete or client I work with."
—Peter Park, official strength and conditioning coach for Lance Armstrong

​
Abs for Shock and Awe
​

How to Develop the Ultimate in Wrought-Iron Muscle, Mid-Section Body Armor and Core Generation of Explosive Power

The sole goal of Hardstyle Abs is to achieve an extraordinarily strong mid-section. But not simply to swivel heads with your rippling "six-pack". For, according to Pavel, your abs should be simultaneously weapon, armor and force generator. The six-pack is just a side effect of the coiled power with which you now operate.

Hardstyle Abs will give you impenetrable body armor—to withstand a direct hit of the greatest magnitude. Hardstyle Abs will give you the generative force to retaliate with a devastating backlash. And Hardstyle Abs will help you lift more weight than ever before—more safely.

After years of dedicated research and experimentation, Pavel has identified three "killer" drills, as all you need to achieve this level of mid-section mastery. Follow Pavel's battle plan to the T and the results are guaranteed—noticeable within weeks, extraordinary within months. Pavel provides the laser focus. You? Simply obey the commands.

"Hardstyle Abs is a terrific resource for making your abdominals harder and stronger than they've ever been. Forget about the high-rep burn, Pavel's techniques will unleash explosive power from your midsection when he uncovers his breathing, sit-up, and internal isometrics secrets. And his Hardstyle hanging leg raise is one of the most challenging and effective strength exercises I've ever used."—Chad Waterbury M.S., author Huge in a Hurry
​
The highlights of
Pavel's HardStyle Abs program:

Why high reps have failed you—and the "secret sauce" that will have your abs tuned for heavy action all day long and at a moment's notice.
Hardstyle breathing—for explosive power and a bullet-proof waist.
The Hardstyle Sit-up—to generate an unbelievable contraction for superior results.
Internal Isometrics—the lost secret behind the old-time physical culturalists' exceptional abdominal strength and development.
The Hardstyle Hanging Leg Raise—the final weapon you must master to channel the power of your every muscle into one devastating surge.

"My good friend Pavel is the functionally strongest pound for pound man I have ever measured and studied. This validates his approaches—they are not polluted by current trend, political correctness, financial gain or ego. Listen to his wisdom and you will be stronger and wiser. I did, and I am."
—Professor Stuart McGill, author of Ultimate Back Fitness and Performance
​

For complete information and to order, click here now
Prefer to order by phone? Call 1-800-899-5111 NOW